EAST TENNESSEE GENEALOGY
"A RESEARCH GUIDEPOST"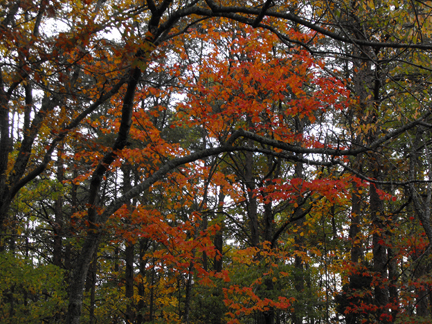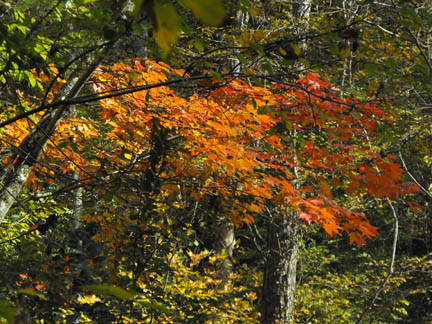 Fall in Tennessee along the beautiful Hiwassee River...photo's used with permission of BJG Reece
This website was created & designed to act as a research aid for the southeast Tennessee counties of Polk, Bradley, Meigs, McMinn, Monroe & Blount. It will provide you a stepping off point for web sites, historical societies, libraries and other organizations. We hope to make you more familiar with what is available and how to utilize the data. As time goes on we will be adding more so be sure to bookmark this site and visit often.
We have also incorporated all other East Tennessee Counties from an older site we held. We will try to improve on this as time progresses so please forgive our mess.
Tennessee formed in 1796 from North Carolina .
OVERVIEW referencing southeast Tennessee:
One of the best pieces of advice one can offer someone researching in southeast Tennessee is this... "Forget all about those county lines."
The Cherokee Indians were the original inhabitants of the region. A succession of treaties between the Cherokee and the British, then later the Cherokee and the new American government continually shrank the territory held by these Native Americans. Those continual changes in the treaty lines were the cause of the ever changing county lines and county formations beginning with statehood and continuing on until 1838. With Loudon County forming in 1870.
Another factor lies in the time period prior to statehood. The Watauga Settlements first saw white settlement in the mid to late 1770's. The earliest tax lists are dated during this period. This area was first called Washington District, North Carolina, later it was Washington County, NC. After Tennessee statehood several counties were formed in this region. (You'll see more on this subject below.) This area also saw the formation of the 'State of Franklin". Many of the families who settled in some of these newly formed counties were from the Washington Co./Jonesboro area.
Another factor to be aware of is the mixed marriages that occurred quite often along each successive Cherokee treaty line. These treaty lines did not build a huge brick wall between the whites and Indians. One example could be John Walker. He was a mixed blood Cherokee whose first wife was Kati Kingfisher, daughter of famed Beloved Woman Nancy Ward. John Walker was instrumental in helping form the foundation of McMinn County...even built the first courthouse at Calhoun. In the early 1800's Cherokee Indian Agent Col. Jonathan Return Meigs wrote a letter to the Secretary of War that in his estimation it was likely that 50% of the Cherokee population were mixed bloods....although some disagreed with this number. Some of the families that had mixed blood heritage were: Gann, Adams, Russell, Carter, Cook, Starr, Harlin, McGray/Matoy, Bean, Rider, Phillips, Raper, Shelton, Meigs, Walker, Childers, Clayton, Roach, Thompson, Fields, Hildabrand, Cloud, McNair and many others.
Individual county information.
Any number of web site links can be found by a simple google or bing search so not many links are provided.
MEIGS COUNTY

MC MINN COUNTY

MONROE COUNTY

POLK COUNTY
Loudon County wasn't formed until 1870 so many of that county's earliest records will be found in Monroe or Roane.
Any county in the state within the Tennessee Genealogy Web (tngenweb) can be accessed at www.tngenweb.org
(This website will cover all Tennessee counties laying on & east of the Cumberland Plateau including: Scott, Campbell, Claiborne, Hancock, Hawkins, Sullivan, Johnson, Carter, Washington, Greene, Hamblen. Grainger, Hamblen, Morgan, Cumberland, Anderson, Knox, Jefferson, Cocke, Sevier, Unicoi, Jefferson, Blount, Bledsoe, Sequatchie, Hamilton, Rhea, Meigs, Roane, Loudon, Monroe, Meigs, McMinn, Polk, Bradley, Marion, Grundy &Van Buren.)
For links to the counties listed above
---
More information on each individual county is available through links at
---
Connect to these resources to enhance your research
---
---
---
Tennessee On-Line Resources
---
---
---
East Tennessee Mail lists (see subscription instructions below)
To subscribe to any of the above rootsweb mail lists simply click on the link for it. An e-mail box will appear. Type the word subscribe in the subject line or body of the email and send. Nothing else is needed. You will soon receive an email confirming your subscription. You can then mail to the list. The mailing address to the list will be within the confirmation email.
To locate and subscribe to any COUNTY list use "TN + the county name (I.E. tn[email protected] or [email protected] )
You should type in "L" for list mode (receiving each email as it is sent) or "D" (for receiving the emails bundled into a mailing every several hours.)
You are our 36,519 visitor since 25 January 1999 -- thanks for stopping by!
Maintained by Joyce Gaston Reece & Sharon McCormack
If you have information, documents, links, web sites or other historical & genealogical data you would like to see posted on any of our websites please contact us!!
This page last edited on 03/06/2015
First created October 1, 2011